By Gilliana Hope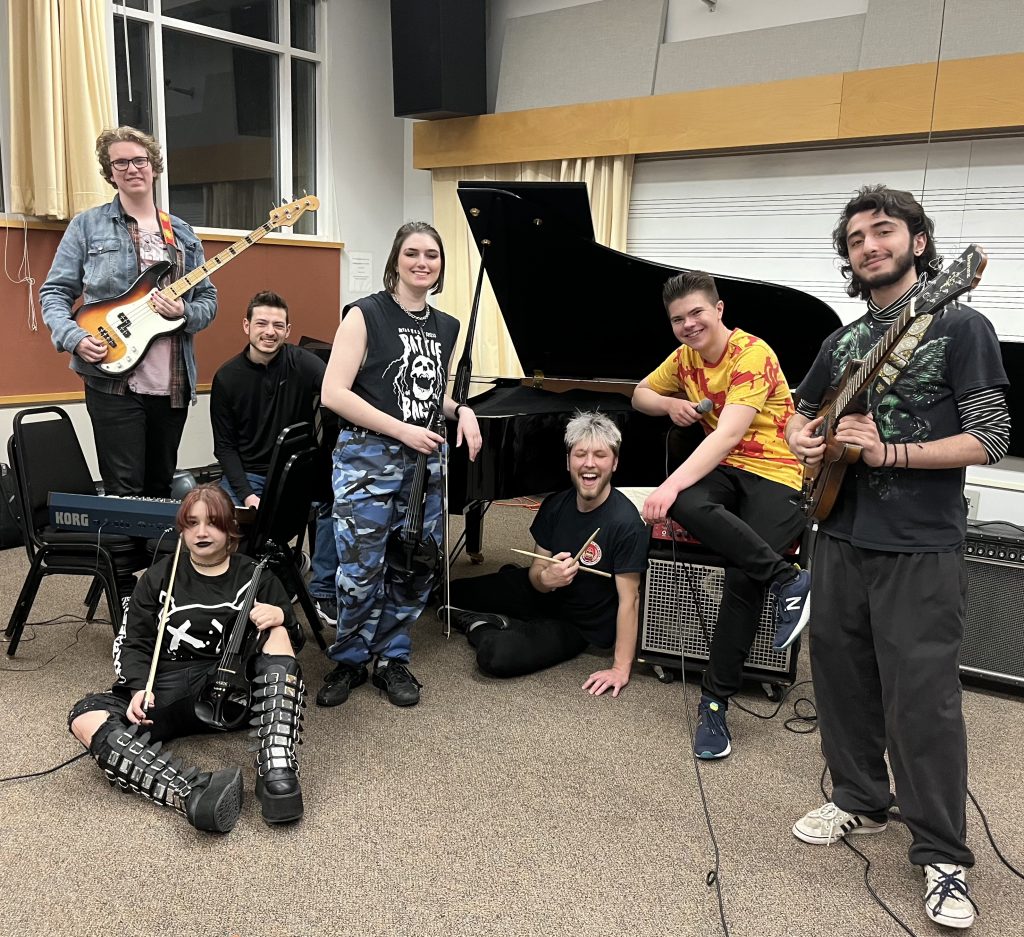 From left to right: Owen Bakker, Sam Forrester, Jackson Guha, Ellie Lutterman, Jake Bartelme, Carter Antin, and Diego León
Epitóm of Chaos debuted on April 14th in a blaze of glory. Adeptly named, the performance was a display of chaotic good energy that vibrated throughout the room. Originally named simply Epitóm, "of Chaos" was added at the suggestion of guitarist Diego León to articulate the range in their repertoire. Rounding out the band's line-up includes vocalist Carter Antin, drummer Jake Bartelme, bassist Owen Bakker, keyboardist Jackson Guha, and violinists Sam Forrester and Ellie Lutterman. The night was psychedelic and highlighted how unabashedly they lean into the pandemonium, such as when violinist Ellie took the mic for a screamo-jazz of Stupid Horse by 100 gecs.
Shortly after the show, I sat down with Diego, Jackson, and Jake to chat about the origins and influences of the band. Founding members Jake and Jackson started as a Pink Floyd cover band, developing into the full-fledged band they are today through their "very diverse musical identities," as León– an early addition to the mix– noted. While the members have a variety of artistic interests and backgrounds, Bartelme echoed the sentiment that they complement each other and purposely structured the band to leave space to honor and celebrate these influences, "it doesn't hinder anybody's ideas or styles, we take in everybody's and that's what makes the chaos work." The experimental genre-bending can be heard in the band's mix of progressive rock, hyper-pop, and ska-punk, to name just a few noticeable styles in their performance. Their music begs for improvisation at the helm, as "everything is never really set in stone," according to Guha.
Along with their performance debut, the band gave the audience a teasing taste of what they have to offer through a couple of original works. The pieces they showcased smoothly bled into each other, the transition was so fluid that I barely registered it happening. During the first half, the violin and drums seemingly had an instrumental conversation, hypnotizing the audience through their interaction. I found myself unable to look away for fear I'd miss a crucial notation of their playful discussion. This composition, entitled Half Of The Day, was spearheaded by León and expressed dread over wasting a day in your life. The second portion was started by Guha and several members of the band contributed to its final product, fleshing out additional instrumental components and the lyrics. Their mutual goal was to ensure everyone had equality and a spotlight in the musical display. None of this would have been possible if not for the ability to mix with fellow creatives through their educational journeys thus far, Guha conveyed this as a significant part of their respective growth as musicians. "This band is kind of our coming of age," Bartelme declared, and with another gig already lined up for May 23rd it is evident that there will be no stopping the spread of chaos.
(Some quotes have been edited for clarity and conciseness)